News
Creating a WhatsApp Channel On Android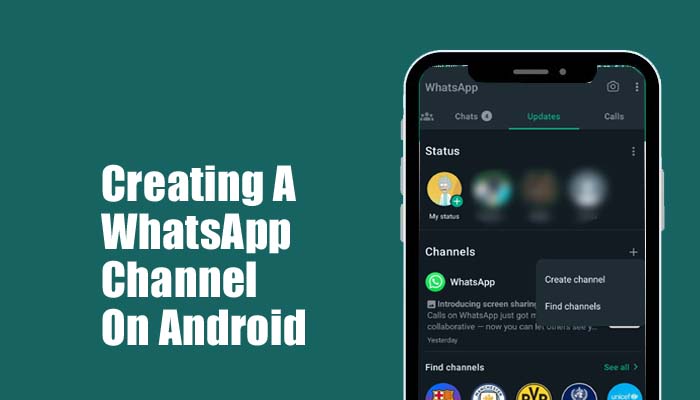 You might not have WhatsApp's Channel function right away as of August 2023 because it is still in its infancy. To make sure you have access to the functionality, you must first upgrade the app. Search for WhatsApp on the Play Store or App Store. If there is a choice, click the Update button next to WhatsApp on the search results page. If you already have the most recent version installed, you will instead see the Open button rather than Update.
How to Create a Channel on WhatsApp
Both the Android and iOS apps allow you to establish WhatsApp Channels. Starting with Android, we'll demonstrate how to do it on both platforms. Take the following actions on Android:
Open WhatsApp, then select Updates.
Select Create Channel by tapping the Plus (+) button next to Channels.
Choose Continue from the pop-up menu.
Next, type the name of your Channel and a description. Add a Channel profile picture to complete.
To complete the procedure, tap Create Channel at the end.
Using an iPhone, follow these instructions:
Tap Updates in the bottom left corner of WhatsApp.
In the pop-up menu, tap the Plus (+) button in the upper right corner and choose Create Channel.
Select Continue.
Next, enter your Channel's information. By choosing Edit, followed by one of the offered options, you can add a profile photo. Add a Channel name and description after that.
To complete, tap Create Channel.
Instantaneously, WhatsApp will create a Channel. Similar to building a WhatsApp Community, building Channels in WhatsApp does not require approval. Additionally, you can start posting messages right away after creating your Channel.
Despite this, keep in mind that WhatsApp controls Channels and has the authority to take action if you disobey its rules. Shared illegal or potentially harmful content is generally discouraged. The platform can also penalize Channels that are found to be distributing content that is inappropriate for WhatsApp's audience and committing fraud.
In general, if you want to be secure, we encourage you to keep away from everything that can get you banned from WhatsApp.
Why You Should Start a WhatsApp Channel
You should set up a WhatsApp Channel if you run a business or are a well-known figure. One reason is that it enables you to communicate with your followers and update them directly from WhatsApp. WhatsApp Channels are essential for sharing critical updates about your services or lives, as well as limited-time continuing sales.
Additionally, you can use polls on your channel to get input from your fans or clients. The ability to feature yourself on the searchable directory so that anybody can find and follow WhatsApp Channels makes WhatsApp's Channel feature another crucial tool for exposure.
Create A Channel On Whatsapp To Increase Your Audience.
Make a WhatsApp Channel now that you are aware of how to do it. By following the above instructions, you may build one instantaneously, allowing you to gain more visibility on the site. You don't have to provide your phone number to the public because channels have privacy built in, and you can limit information sharing.
Humbly Request To All Visitors!
If you found above both downloading link expired or broken then please must inform admin by fill this Contact Us! Form