News
 8 Indians on Instagram With the Most Followers in August 2023
The days of getting to know our favorite stars through newspaper and television interviews are long gone. We may now more readily gain a glimpse into their lives thanks to the social media age. The top spectacular Indians on Instagram with the most followers are listed below.
[adinserter block="3″]
Instagram is a social networking platform that serves as a photo and video archive. Pictures, videos, stories, and other content can be shared. It has grown significantly in popularity as a method of influence-based income for people. The more followers you have, the more likely it is that a company will contact you about running advertisements, which will increase your revenue. It is important to note that the Indians on the list of Instagram users with the most followers have amassed a sizable following. This is a result of having a strong brand, being well-liked, and frequently making news.
Consider Virat Kohli, the Indian with the most Instagram following. He has maintained the top spot for a very long time, which has brought him some fantastic brand endorsements. According to sources, the batsman makes close to INR 8.9 lakh from each sponsored Instagram post!
[adinserter block="4″]
Indians With Highest Followers On Instagram
The list of Indians with the most Instagram followers is shown below.
1. Virat Kohli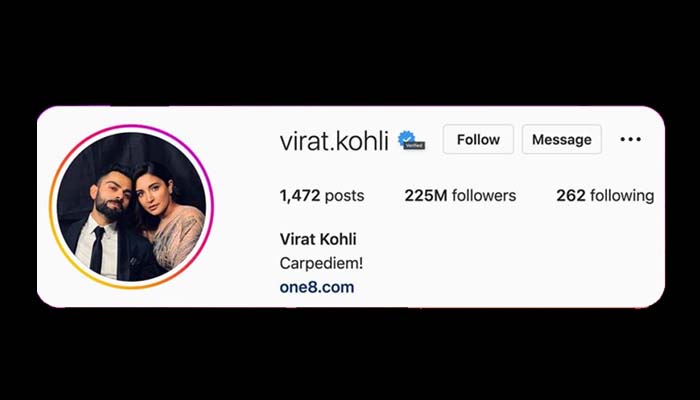 Virat Kohli, a cricketer and fitness enthusiast, is the Indian with the most Instagram followers at the top of the list. The footballer is known for keeping all of his social media accounts authentic and attributes his fan base to those that love and admire him the most. He posts about his health, nutrition, family, and other topics in addition to the brand endorsements he performs on the platform (which, according to reports, pay him whopping crores!). He is also the most popular Asian with a sizable Instagram following. He is far more popular than the other Indians on the list, with 225 million followers.
2. Priyanka Chopra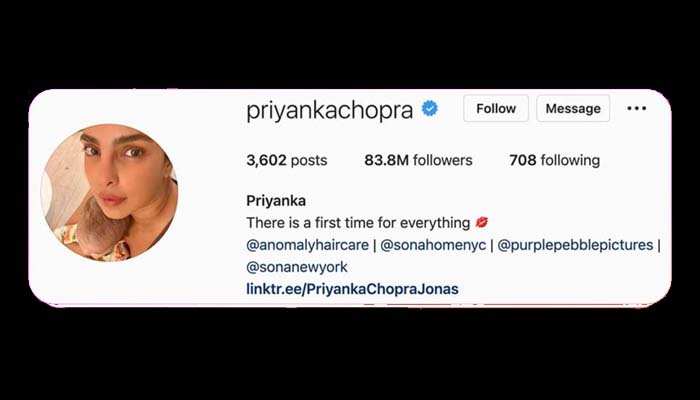 Priyanka Chopra, our current not-so-Desi girl, ranks second among Indians in Instagram follower count. She has retained a sizable fan base among the Indian public for her talent and work, even after migrating to the United States of America following her marriage.
Chopra has received numerous honors for speaking up for the voiceless due to her active participation in numerous international organizations, including UNICEF. This, together with her Hollywood identity as an actor, has given her support on a global scale as well. She is a very social media-savvy person and frequently updates about her family, job, and other topics.
[adinserter block="6″]
3. Shraddha Kapoor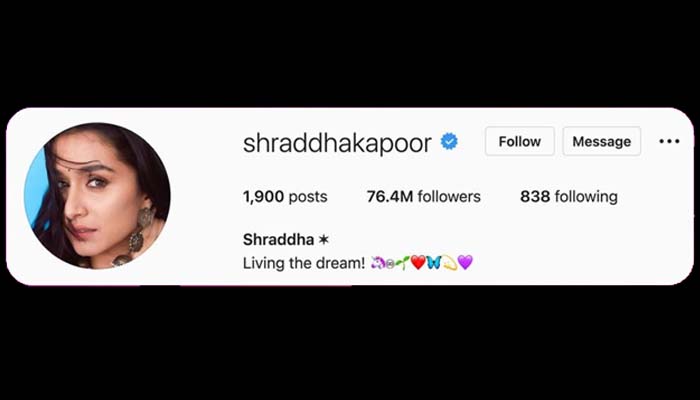 Shraddha Kapoor's reputation as a social media sensation is unshakeable, despite the fact that she may not be a very well-known actor or score a lot of movies each year.
The multi-talented actor is also a recognized singer and dancer, which has helped her gain a large international following. In addition, despite being a celebrity, she is recognized for keeping her social media accounts authentic by sharing behind-the-scenes photos from her job, workouts, and family, as well as candid photos of herself. She has recently landed some incredible brand endorsements from well-known firms thanks to her nearly 76 million followers.
[adinserter block="7″]
4. Alia Bhatt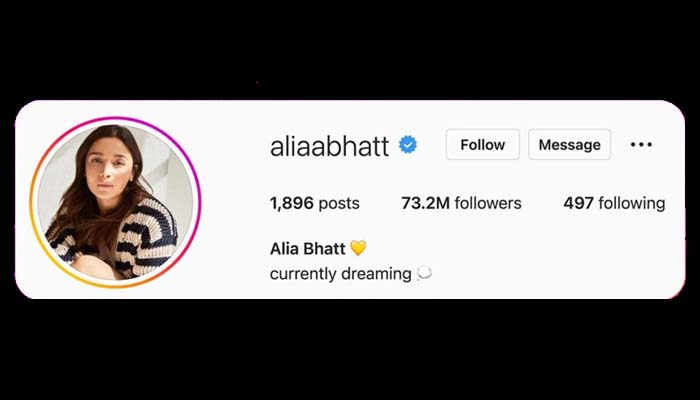 Bhatt and Kakkar, who is presently in fifth place on the list of Instagram users with the most followers among Indians, are vying for the fourth spot. Her popularity reached an all-time high after delivering back-to-back successes in Bollywood films like Gangubai Kathiawadi, Brahmastra, RRR, and Darlings. Her unexpected marriage to Bollywood actor Ranbir Kapoor has garnered some breath-taking headlines.
She recently worked on Hollywood films and photos with actress Gal Gadot, which received widespread media coverage worldwide. The actor has cooperated with some prominent businesses in addition to being the proud owner of the children's line Edamamma!
[adinserter block="8″]
5. Neha Kakkar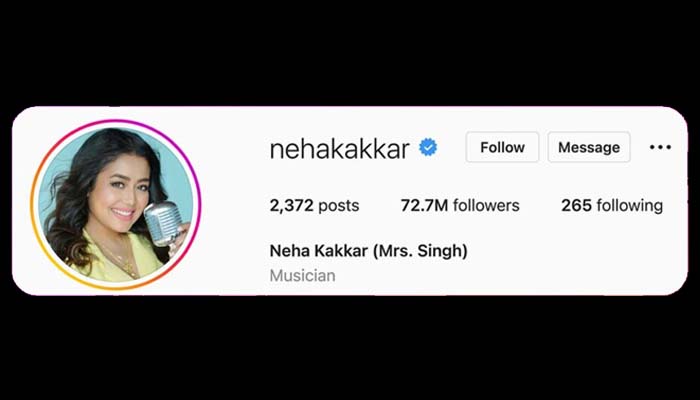 Millennials who look up to Neha Kakkar, an Indian singer and entertainer, have been buzzing about her. Young, middle-aged, and older people—almost all age groups—are among her fans. Additionally, she has maintained constant contact with all of her admirers via social media. She is one of the select few celebrities that post fan-made reels and videos to her social media feed and tales. Her personal life, career, wardrobe, and vacations are all hinted at on her social media.
[adinserter block="3″]
6. Narendra Modi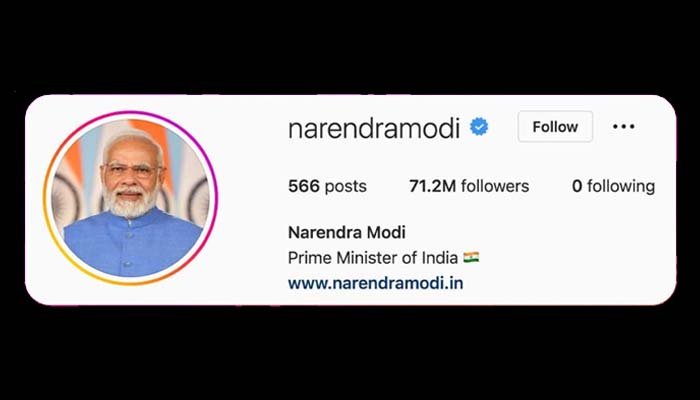 Narendra Modi, the prime minister of India and a prominent international figure, is listed sixth. He is the only politician to be among the top-followed Indians on Instagram among athletes and movie stars.
His social media crew deserves special recognition for providing timely postings and reels on social media on his travels to various locations. No other world leader has recently actively interacted with the audience across all mediums. Narendra Modi's social media activity conveys a lot about his national pride and shows the diversity of Indian culture. In addition, he informs the public about all new initiatives, his travels, and much more.
[adinserter block="3″]
7. Deepika Padukone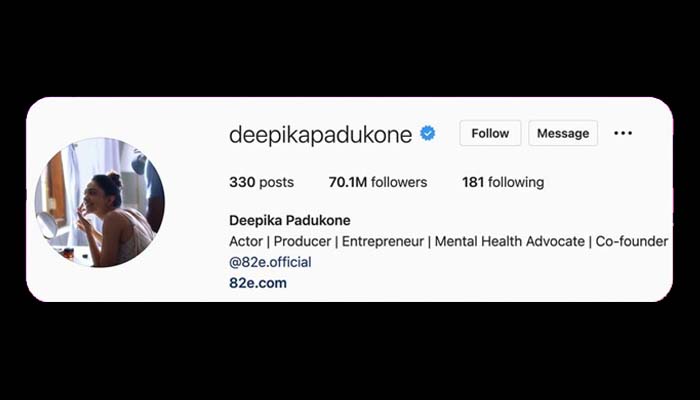 Deepika Padukone, the international star and favorite of millions, has an astounding 70 million Instagram followers as of this writing. The performer and actor has received a lot of praise for her roles in films.
Additionally, she has been a strong supporter of good mental health and frequently highlights it in her social media posts. Padukone has served as the face of numerous prestigious international brands, including Cartier, Cosmopolitan, Louis Vuitton, and others. Her participation in numerous major fashion parades and events has also brought her international prominence.
[adinserter block="4″]
8. Katrina Kaif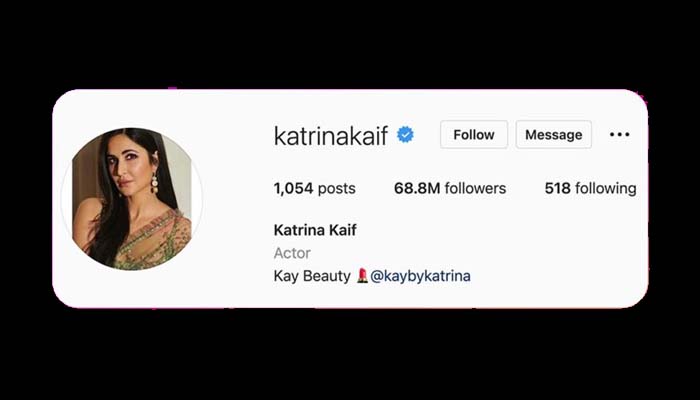 Bollywood actor Katrina Kaif is a frequent user of social media. She enlisted social media influencers to handle all of the advertisements and brand activity when she established her cosmetics company, Kay Beauty, in an effort to catch the attention of online users.
She has also been a frequent member of the networking site. Kaif keeps her audience up to date on her employment, exercise routines, fashion, and other activities. She is currently the eighth most followed Indian on Instagram, with 68.8 million followers.
[adinserter block="7″]
Summary: Indians with highest followers on Instagram
Indians with highest followers on Instagram
highest Instagram follower count for Indians
Right in front of you is a list of Instagram users from India who have the most followers. It is clear that the public values individuals who post on social media with a dose of reality. The most important thing to remember in this situation is that while these rankings may change, Instagram's popularity has consistently grown. More users than ever before are using the platform. Examining minute details and paying attention to them in real life has become a need in today's world. We sincerely hope that our list allowed you to have a sneak glance at the Instagram profiles with the most followers.
Humbly Request To All Visitors!
If you found above both downloading link expired or broken then please must inform admin by fill this Contact Us! Form