News
5G Launch 13 Cities In India 2022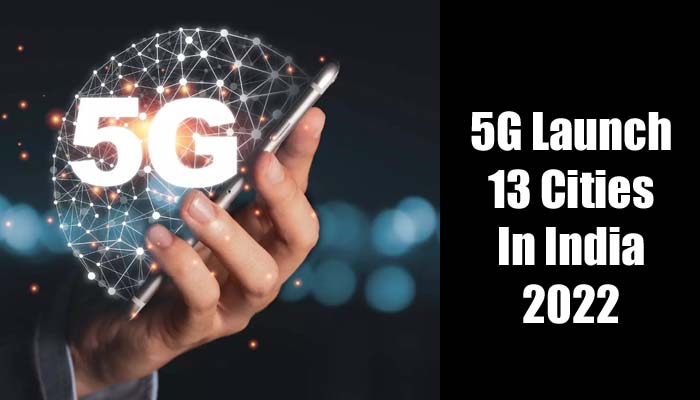 In the future year 2022, 5G connection will finally be available in India. The most recent telecom connection, however, won't be accessible in all cities. According to the Department of Telecom (DoT), 5G telecom services would launch in a few Indian cities in 2019. 13 cities will receive 5G communication services overall in 2022. Gurugram, Bengaluru, Kolkata, Mumbai, Chandigarh, Delhi, Jamnagar, Ahmedabad, Chennai, Hyderabad, Lucknow, Pune, and Gandhinagar are among the cities on the list.
After 4G, the most recent improvement to the long-term evolution (LTE) mobile broadband networks allowed users to stream music and video at a faster rate. 5G services. With 5G connection, many gadgets besides smartphones will be able to connect at faster speeds. In a few cities across the nation, telecom service providers like Reliance Jio, Bharti Airtel, and Vodafone Idea have set up 5G trial sites. The country's first locations for the introduction of 5G services will be these metro areas and large cities, according to DoT.
Along with the telecom providers, the Department of Telecom is participating in the testing and development of 5G technologies. For the development and testing of 5G technology, the DOT has also enlisted the assistance of prestigious research institutions including the Indian Institute of Technology (IIT) Bombay, IIT Delhi, IIT Hyderabad, IIT Madras, IIT Kanpur, Indian Institute of Science (IISC) Bengaluru, Society for Applied Microwave Electronics Engineering & Research (SAMEER), and Centre of Excellence in Wireless Technology (CEWiT).
These eight organisations are working on a research project named the "Indigenous 5G Test bed project," which began in 2018 and will be finished by the end of 2021. The Department of Telecom has provided funding for the project. For this project, the department has invested Rs 224 crore.
The Department of Transportation (DoT) sent a reference to the industry watchdog Telecom Regulatory Authority of India (TRAI) in September 2021, asking for recommendations for the auction of spectrum designated for International Mobile Telecommunications (IMT)/ 5G with regard to a price, band plan, block size, quantity of spectrum to be auctioned, and associated conditions for auction of spectrum in the ranges of 526-698 MHz, 700 MHz, 800 MHz, 900 MHz, 1800 MHz (Industry 4.0).
Three frequency bands—low, mid, and high—will be used to deliver 5G services. The maximum speed for the low-band spectrum is 100 Mbps. While the high-band spectrum will enable internet speeds up to 20 Gbps, the mid-band spectrum delivers faster speeds compared to the low band but has restrictions on coverage area and signal penetration.
Humbly Request To All Visitors!
If you found above both downloading link expired or broken then please must inform admin by fill this Contact Us! Form