News
Watch As A Video Of Girls Dancing In A Train Goes Viral With Praise From Online Users.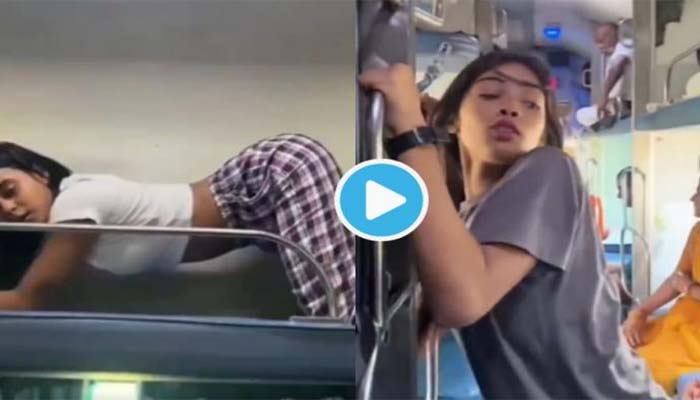 Dancing in public and filming films has grown popular in the age of social media and Instagram Reels. You must have seen videos of individuals or groups dancing on the metro or aboard trains. Recently, a video of some girls dancing in a train has gone viral, and online users are praising the ladies' poise. A girl can be seen dancing at the start of the video while seated on the top berth of a coach seat on the right side. The camera then moves to a girl who is standing in the hallway before moving to the girl who is sitting on the top berth on the left side of the seat. Then, while standing in the coach, the other girls in the group start to gyrate to the music.
A woman with the Twitter handle (@vaidehihihaha) posted the video. She captioned the video, "Brother, I can't even eat food in front of people in the train," Bhai mere se train mein logo ke aage khana bhi khaya nhi jata.
Watch the video below:
Bhai mere se train mein logo ke aage khana bhi khaya nhi jata😔😭 pic.twitter.com/esLxk9ymom

— whydahi(Himesh's version) (@vaidehihihaha) May 4, 2023
She added in another tweet, "Confidence dedo Bhagwan (Please give me confidence God)" Another user said, "Esa confidence kahan milega (Where can one get such confidence)".
Meanwhile vendors in the train. pic.twitter.com/Ka25Jp7prr

— Ranjan Sharma (@Sharmajaoge) May 5, 2023
Another wrote, "I'm suddenly feeling the urge to take the train." Another remarked, "First metro, now this, seems like trains are the targets!" Another user of the internet stated that "Railways and other authorities need to come up with strict rules against creating noise in public transport."
Humbly Request To All Visitors!
If you found above both downloading link expired or broken then please must inform admin by fill this Contact Us! Form