News
iPhone 16: All the Information You Need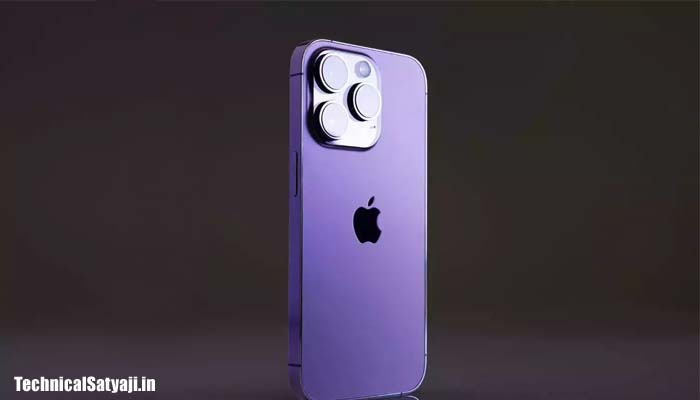 The next-generation iPhone 16 lineup has already taken over the news as the iPhone 15 series is set to launch in less than a month. That is the obsession with iPhones! Even if we are aware that it is too soon, there has been a lot of insider information about the iPhone 16 series that is scheduled for 2024. There are a few significant enhancements and updates that live up to the expectations. We've compiled all the information regarding iPhone 16 Series leaks, tips, and rumors. So, now you know what to expect from iPhones in 2024 and what not to. Keep checking back with us for updates as the rumor cycle develops.
[adinserter block="3″]
iPhone 16: Design & Display
Three significant display and design changes are anticipated to transform the 2024 iPhones, providing us a fresh take on Apple handsets.
Bigger Displays
First, several sources claim that in 2024, we'll see significantly larger iPhone Pro models. 6.27 inches are predicted for the iPhone 16 Pro. The iPhone 16 Pro Max, on the other hand, boasts a massive 6.86-inch display, making it possibly the biggest iPhone ever released. Additionally, the iPhone 16 Pro Max will have a higher display than the iPhone 15 Pro Max, according to the stolen CAD renderings (9to5mac). Additionally, if the highly expected titanium frame for the iPhone 15 Pro Max materializes, the iPhone 16 Pro Max will follow suit.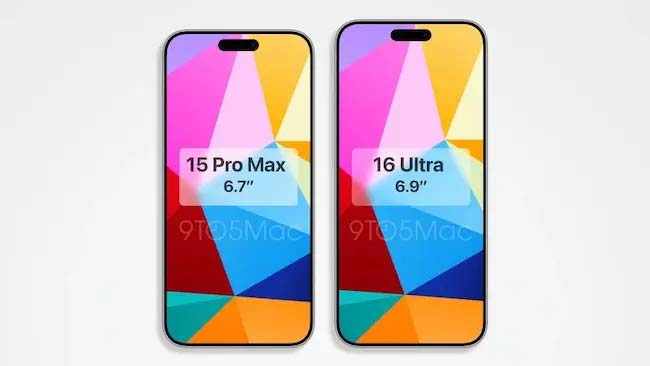 [adinserter block="4″]
The inclusion of microLED panels on the iPhone 16 Pro versions has sparked a lot of debate. Although Apple has this planned, it appears far off at this time. A microLED Apple Watch would debut first, possibly in 2024 or 2025. iPads and iPhones will presumably join in the fun later.
This upgrade will only be available for Pro models. The 6.1-inch and 6.7-inch displays on the iPhone 16 and 16 Plus will be identical. Apple might still make changes to the standard versions, though. According to certain reports, the base models will feature the matte glass surface that is now exclusive to the Pro editions. In the following months, when further leaks accumulate, we'll get the full picture.
[adinserter block="6″]
Under Display FaceID
Earlier, the Korean website The Elec said that Apple was on the verge of implementing Face ID technology that would be hidden behind the display, replacing the notch and the Dynamic Island. Initial predictions place the release of this technology in 2024 with the iPhone 16 Pro versions. Ross Young, a display analyst, offered a roadmap that leads us to a different part of the story and predicts that Face ID will not be included in displays until 2025.
Apple to go all LTPO in 2025, even base models to get 120Hz refresh, finally. https://t.co/n0ivg08pde pic.twitter.com/dwjGiHwn8u

— Ross Young (@DSCCRoss) April 3, 2023
Mark Gurman of Bloomberg also thinks that it might take Apple three to four years to "fully embed Face ID and the front-facing camera into the display itself." After taking all of this into account, it seems clear that the Dynamic Island, which initially debuted with the iPhone 14 Pro lineup, will also be present on the iPhone 16 Pro models. We will receive a larger display area with a circular cutout for the selfie camera when under-display Face ID finally debuts on iPhones, similar to what we've been seeing on contemporary Samsung devices.
[adinserter block="7″]
Solid State Buttons
The existence of a buttonless iPhone has long been rumored. There has been a lot of speculation that Apple will replace the current physical power, volume, and mute buttons with solid-state counterparts. Sadly, the most recent leaks confirm that the iPhone 15 Pro models will not include solid-state buttons. Since its release, there have been numerous reports suggesting that the iPhone 16 Pro variants will feature solid-state buttons. According to analyst Ming-Chi Kuo and Mark Gurman, Apple's 2024 iPhone models would probably feature solid-state technology.
The solid-state buttons are functionally equivalent to physical buttons. Despite this, there isn't a real button press. Instead, there is a haptic vibration that simulates pressing down on the button without any actual action. Apple currently employs solid-state technology in the trackpad on its MacBook models as well as the Touch ID Home button on the iPhone SE.
[adinserter block="8″]
There is no denying how intriguing the concept of solid-state buttons on iPhones is. The analyst Jeff Pu, however, claims (via Macrumors) that there's a slim possibility that the iPhone 16 Pro may feature solid-state buttons. It appears that Apple still needs some time to arrive at the negotiation table, or perhaps all of the plans have failed. Cirrus Logic, Apple's top vendor, added that it currently knows little about the company's ambitions. We'll have to wait till Apple reveals its cards in 2024 because there's a lot of confusion right now.
iPhone 16: Camera Upgrades
The basic iPhone 16 models are expected to have a 48MP primary camera and a 12MP ultrawide camera on their rear panels, similar to the iPhone 15 series. Even though all variations may have a 48MP primary camera, there are credible reports that more pricier models may include a bigger sensor for brighter shots. The improved sensor will be 12% bigger and measure 1/1.14 inches (0.87 inches) in size as opposed to the present 1/1.28 inches (0.78 inches).
[adinserter block="3″]
A 48MP ultra-wide sensor, a significant improvement over the present 12MP ultrawide angle lens on iPhone 14 Pro models, may also be housed in the rear camera bump on the iPhone 16 Pro series. This will enhance low-light photography by enabling the lens to capture more light.
The iPhone 16 Pro is expected to include a periscope telephoto camera in addition to the iPhone 16 Pro Max model. Currently, only the iPhone 15 Pro Max is anticipated to have the periscope telephoto camera due to size restrictions. If things go well, it will be thrilling to see the Pro models' aligned camera specifications, particularly for those who want a smaller Pro model.
According to Ming Chi Kuo, the entire iPhone 16 lineup will have a stacked back camera configuration, which is rumored to be arriving on the iPhone 15 & 15 Plus models. The several cameras will provide more light for realistic images. Standard iPhone 16 models, meanwhile, might return to the vertical camera configuration we last saw on iPhone 12 models.
The base model iPhone 16 will have a vertical camera layout, as opposed to diagonal on iPhone 15. This will make the device instantly recognizable as the latest model.

Currently, an iPhone 12-style design is in testing, though there is another design as well, same layout.

— Unknownz21 🌈 (@URedditor) May 22, 2023
[adinserter block="3″]
iPhone 16: Specs & Features
The iPhone 16 family will come pre-installed with iOS 18. It will be really fascinating to see what iOS 18 provides to its users, especially in light of the wonderful improvements brought to iOS 17. Below are some alleged and potential iPhone 16 characteristics, in addition to an incredibly rich software. Let's investigate them!
Apple-designed 5G Modem Chips
Since several years ago, Apple has been using Qualcomm chips. Apple has been working for a while to create its own modem processor and antenna system so they don't need to acquire any parts. The Cupertino tech titan was dissatisfied with Qualcomm's license conditions and filed a lawsuit against them in 2017.
[adinserter block="4″]
A 5G modem chip made by Apple is one of the significant advancements anticipated for the iPhone 16 series. Since quite some time, this function has been rumored. Originally, Apple planned to release its own modem chip in 2023, but the project was postponed. The CEO of Qualcomm made a strong claim this year that Apple will probably utilize its own 5G modem chips in 2024. Therefore, we can anticipate the iPhone 16 series to include Apple's own modem chip.
Wi-Fi 7 Support
The iPhone 16 Pro and iPhone 16 Pro Max may use the next Wi-Fi 7 standard, according to Ming-Chi Kuo. The maximum data transfer speed supported by Wi-Fi 7 is 40 Gbps, a four-fold improvement over Wi-Fi 6E.
Apple將積極升級硬體產品規格以建構更有競爭力的Vision Pro生態

1. Vision Pro的成功關鍵之一在於生態,當中包括能否與其他Apple硬體產品整合,而與此相關的主要硬體規格為Wi-Fi與UWB。

2. iPhone 15採用的UWB將規格升級,生產製程由16nm升級到更先進的7nm,有利近距離互動的效能提升或降低耗電。…

— 郭明錤 (Ming-Chi Kuo) (@mingchikuo) June 19, 2023
[adinserter block="7″]
For reference, Wi-Fi 6 is used by the most recent versions of the iPhone 14 Pro. Additionally, Wi-Fi 6E capability will likely be added to Apple's next iPhone 15 series. Making a year-over-year change in Wi-Fi standards could be a huge ask for Apple if the upgrade takes place this year. Even if the tech giant shocks everyone, you'll need a Wi-Fi 7 compatible router, which is very expensive, to benefit from those blazingly fast speeds.
Higher Base Storage
There are four storage options available for current iPhones, ranging from a basic storage of 128GB to a maximum storage of 1TB. Since a 2TB option is not currently anticipated, the maximum storage capacity will remain same. However, Apple may decide to do away with the 128GB option and make 256 GB the base storage choice.
With this, there has been a surge of both overjoy and disappointment. Since the base capacity is bigger at 256GB, the starting price is also more. Currently, it is unlikely to occur, especially considering that Apple previously discontinued support for the 64GB model following the release of the iPhone 12 series. In all honesty, I believe that 128GB is the perfect storage size for casual users.
[adinserter block="8″]
iPhone 16: Battery
It has been widely reported that Apple will use stacked battery technology in its upcoming iPhone models. A while back, RGcloudS, a Twitter user, speculated that the iPhone 15 range would adopt the updated cable charging standard. According to RGcloudS, the iPhone 16 series will support Apple's stacked battery technology, 40W cable charging, and 20W MagSafe charging.
About stacked battery
I'm sorry for that

it's 100% confirmed on iP16 series.
not 15, along with faster chargehttps://t.co/9wBRH1eCnE

Apple want to show they can bring similar / upgraded battery capacity despite having larger sensor

They wouldn't downgrade from 15 – 16

— RGcloudS (@RGcloudS) July 18, 2023
If this is true, we should expect to see larger battery capacities, faster charging times, and longer battery life on (at least) iPhone 16 Pro versions. It's best to treat this leak with a grain of salt because RGcloudS doesn't have a solid track record of Apple leaks (he does, however, have a proven track record of Android leaks).
[adinserter block="3″]
Will there be an iPhone 16 Ultra?
Since the iPhone 11 series, Apple has begun selling the iPhone Pro and Pro Max variants. With the iPhone 16, a new top-end signature variant called the iPhone 16 Ultra may be introduced. In his February 2023 Power On newsletter, Mark Gurman predicted that Apple would release the iPhone Ultra, which would be even more expensive than the iPhone Pro and Pro Max variants.
Apple is reportedly preparing to release the iPhone 15 Ultra this year, according to a more recent rumor from Andrew O'hara. The iPhone 16 Ultra is certain if this information turns out to be accurate.
Here's a late Friday tidbit I've heard for #iPhone15. Multiple sources have told me Apple will indeed use the "iPhone 15 Ultra" monicker for the plus-sized pro phone. This was an early rumor that got backpedaled. Most have since referred to it as iPhone 15 Pro Max.

— Andrew O'Hara (@Andrew_OSU) August 19, 2023
[adinserter block="4″]
Regarding the functionality and design, nothing is yet clear. Perhaps it will have a larger screen, a faster processor, additional cameras, or even the much-rumored port-less design. We might see Apple adopt a similar strategy with its iPhone Ultra model after taking a look at Apple Watch Ultra, which offers an updated design and unique features on both the inside and the outside. Despite this, we cannot base our expectations on any firm ground. The designs are continuously being revised, so a delay until 2025 or later is possible.
iPhone 16: Release Date & Price
According to historical data, Apple hasn't strayed far from its typical launch schedule. According to a recent report from 9to5Mac, the iPhone 15 will be released on September 13 of this year. The iPhone 16 Series is therefore expected to follow the company's schedule and launch sometime in September 2024.
There are currently no known prices for the iPhone 16 in stone. We can only speculate at this time that Apple's entry-level iPhone 16 model will cost $799 (about Rs 66,400). Given the numerous speculations and leaks suggesting that Apple would disappoint its customers by raising the price of the iPhone 15 Pro models by $100, it also suggests that the price of the iPhone Pro models from 2024 will rise.
[adinserter block="6″]
Therefore, the starting price for an iPhone 16 Pro might range from $1,099 to $1,199 (about Rs. 91,300 to Rs. 99,6oo). Not to mention, if a new high-end model called the Ultra is released, it will cost even more. Therefore, the iPhone 16 series might end up looking like the following if we want to gain a clearer picture by taking into account all the factors we have covered above:
Expected Models
iPhone 16, iPhone 16 Plus (might be dropped), iPhone 16 Pro, iPhone 16 Pro Max, iPhone 16 Ultra
Display Size
iPhone 16: 6.1-inches,
iPhone 16 Plus: 6.7-inches
iPhone 16 Pr0: 6.27-inches
iPhone 16 Pro Max: 6.86-inches
Software
iOS 18
Wi-Fi Connectivity
Wi-Fi 7 Standard
Rear Camera
iPhone 16 & iPhone 16 Plus: 48MP Primary 1/1.28 inches Wide, & 12MP ultrawide camera

iPhone 16 Pro & iPhone 16 Pro Max: 48MP 1/1.14 inches Wide, 48MP Ultrawide, 12MP Telephoto

Modem
Apple-designed 5G modem chips
Battery
40W wired, and 20W MagSafe charging (with stacked battery technology,)
Expected Release Date
September 2024
Possible Price
iPhone 16: $799 (~ Rs 66,400)
iPhone 16 Pro: $1,099(~ Rs 91,300)
iPhone 16 Pro Max: $1,199 (~Rs 99,6oo)
Humbly Request To All Visitors!
If you found above both downloading link expired or broken then please must inform admin by fill this Contact Us! Form